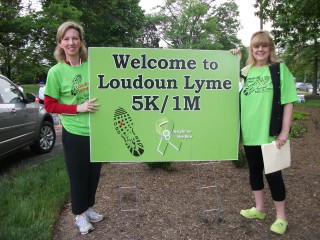 2nd Annual Loudoun Lyme 5k Run/Walk
May 9, 2012,
Washington, D.C., May 8, 2012 — Nearly 1,000 runners, walkers, friends and well-wishers gathered at 7 a.m. Sunday, May 6, at Lansdowne, Virginia, for the Second Annual Loudoun Lyme 5K and 1M Fun Run to support awareness, education, and research for Lyme disease. Excellent running weather assisted the enthusiastic participants, from young children to seniors. More than 50 volunteers helped to setup the course and distribute registration materials, t-shirts, and water, and 30 area vendors supported the event with tables displaying their products and services. Organizers Steve Gotschi, owner of DryHome Roofing and Siding, Inc., and Barbara Balduman, Race Organizer/Director, worked tirelessly over the past year to ensure a successful event to benefit our organization. Gotschi said he was "delighted with the turnout, more than twice the size of last year, and was extremely grateful to the volunteers, vendors, runners, walkers, and all who attended to make this an unforgettable event."
Several local politicians addressed the crowd at the launch of the run. Former First Lady of Virginia Susan Allen, Senator Dick Black (13th Senate District), Loudoun County Supervisor Geary Higgins, and Delegate Barbara Comstock (34th House District) were among the leaders inspiring the crowd to understand Lyme disease, spread awareness and support legislative efforts. Loudoun County Supervisor Shawn Williams and Supervisor Ken Reid also attended in support.
Susan Allen congratulated the crowd on their "terrific effort" and told them, "Raising awareness about Lyme is so important as we look for ways to combat this disease. Teaching our children and others about checking for ticks on people and our animals and knowing the signs and symptoms of a tick bite are part of the solution. We have much to celebrate about the great outdoors in Virginia, and knowing about Lyme disease is a necessary precaution to enjoy all the Commonwealth has to offer."
Delegate Comstock, sponsor of the Resolution designating May as "Lyme Disease Awareness Month" in Virginia reported that she hears from many people who suffer from the disease. She encouraged the runners and walkers to continue telling their stories, because "it's very important for the public and legislators to see and hear from those who are battling this underreported disease that is hitting our area hard."
After the brief speeches, the runners and walkers were off ̶ including Allen and Comstock.
Monte Skall, Executive Director of NatCapLyme said, "Today, our community put a human face on this disease and showed that Lyme patients exist in a big way." The National Capital Lyme and Tick-Borne Disease Association (NatCapLyme) is a nonprofit organization that serves the national capital region to provide informational support for Lyme patients, prevent Lyme disease through awareness, and encourage medical community training and research on better diagnosis and treatment options for Lyme and other tick-borne diseases.
Please visit our web site at http://www.natcaplyme.local/ or contact us for more information.