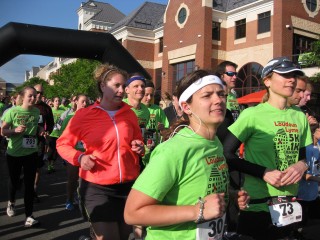 4th Annual Loudoun County Run/Walk For Lyme Disease A Huge Success
May 22, 2014,
McLean, VA, May 22, 2014 — Nearly 1200 runners, walkers, friends and well-wishers gathered at 7a.m. Sunday, May 18th, at Brambleton, Virginia, for the Fourth Annual Loudoun Lyme 5K and 1K Fun Run to support awareness, education, and research for Lyme disease. Excellent running weather assisted the enthusiastic participants, from young children to seniors. More than 70 volunteers helped to setup the course and distribute registration materials, t-shirts, and water; and about 40 area vendors supported the event with tables displaying their products and services.
Organizers Steve Gotschi, owner of DryHome Roofing and Siding, Inc., and Brigid Powell, Race Organizer/Director, worked tirelessly over the past year to ensure a successful event. Gotschi said, "Over the years I have met many with Lyme disease who are in wheelchairs, children who are home schooled leaving behind their friends and sports, mothers who struggle watching their children suffer trying to deal with the neurological and physical effects from Lyme. These are the individuals who compel us to do this run each year." Several local dignitaries addressed the crowd at the launch of the run. Senator Dick Black (13th Senate District) and Delegate Barbara Comstock (34th House District), were among the leaders inspiring the crowd to understand Lyme disease, spread awareness and support legislative efforts. Blue Ridge Supervisor, Janet Clarke, introduced the Loudoun County Lyme Disease Awareness Proclamation making May Lyme disease awareness month.
Monte Skall, Executive Director of the National Capital Lyme Disease Association (NatCapLyme) said, "Today, we bring awareness to a disease estimated by the CDC to be the fastest growing vector-borne disease in America with an estimated 300,000 plus reported cases per year. Virginia itself is in the top 12 states for reported cases and Loudoun has the highest number for all counties in the Commonwealth of Virginia. We thank DryHome Roofing and Siding, and all its volunteers for the incredible commitment it has made to improve the lives of Lyme patients and their families through this event."
NatCapLyme is a nonprofit organization that provides informational support for Lyme patients, prevents Lyme disease through awareness, and encourages medical community training and research on better diagnosis and treatment options for Lyme and other tick-borne diseases.
Please visit our web site at http://www.natcaplyme.local/ or contact us at 703-821-8833 for more information.
Leesburg Today covers Loudoun 5K Race; Lyme Survivors, Supporters Gather To Promote Lyme Awareness At 5K