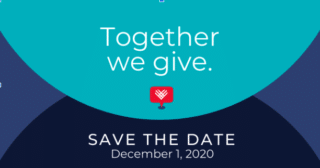 Celebrate #GivingTuesday
December 1, 2020,
In this time of uncertainty, there's a fundamental truth that gives us hope – that together we can do extraordinary things. Over the past few months the world has been coming together to stand up, help out, give back, and heal.
NatCapLyme is participating in #GivingTuesday, a global day of unity and giving, on Tuesday, December 1. NatCapLyme's mission is to improve the quality of life for people suffering from Lyme and other tick-borne diseases by offering support, education and empowering patients, families, healthcare workers and the community at large.
But we can't do this without you! Our goal is to raise $10,000 in the month of December. Not only do we need your support, we need your help to spread the word. Please tell your friends and family why you believe in NatCapLyme's work and encourage them to support us too.
To show our appreciation we are hosting a giveaway for the month of December starting on Giving Tuesday, December 1st. Make a donation of any amount here and you will receive one entry for each donation made throughout the month of December. Donations are not required to enter this drawing, just submit your entry with a $0 donation. Only one $0 entry per person, please. Facebook has not promoted, sponsored or endorsed this giveaway.
NatCapLyme will announce the winner on Monday, January 4th 2021.