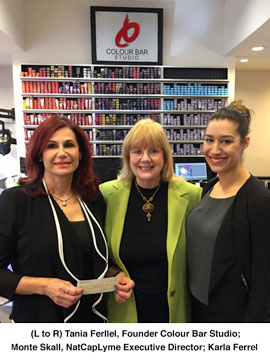 Color Bar Cut-a-thon to Benefit NatCapLyme
July 19, 2015,
Colour Bar Studio
Vienna, VA United States
We would like to sincerely thank everyone who came out to support our very first Cut-A-Thon to benefit NatCapLyme with Lyme disease education and research! Thanks to all of you, and our wonderful sponsors, the event was a great success and lots of fun! We raised a total of $6,620 toward this very worthy cause that is dear to our hearts!
The Colour Bar stylists and staff all feel so fortunate and blessed to count all of you as clients and friends, and we couldn't have made this event a success without all of your support! Thank you again from the bottom of our hearts! We hope to see you all in the Studio soon, and hope you will join us next year for the 2nd Annual Cut-A-Thon!
Colour Bar Studio
8100 Boone Boulevard, Suite 115
Vienna, VA 22182
(703) 848-2000
contact@colourbarstudio.com