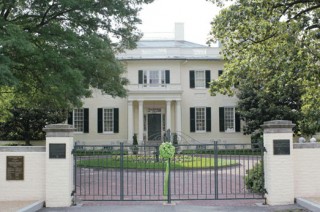 Governor Bob McDonnell Supports Lyme Disease Awareness Month
May 1, 2011,
A message from Gov. Bob McDonnell
In honor of "Lyme Awareness Month" in Virginia throughout May, I am displaying a lime-green bow on my front gate to help the National Capital Lyme and Tick-Borne Disease Association raise awareness about this debilitating disease. In fact, while the bow was being hung, a lyme disease survivor walked by and shared his story!
Sarah Huggins Scarbrough. Director of the Executive Mansion wanted us to know that the NatCapLyme green bow gift to the Governor is hanging on the mansion for Lyme Disease Awareness month and he has posted on the Governor's facebook page.
Please check it out: https://www.facebook.com/#!/VAGovsMansion and thank Governor McDonnell for his support of chronic Lyme patients, the Virginia Lyme Disease Task Force and his efforts to spread the word on Lyme Disease Awareness Month.