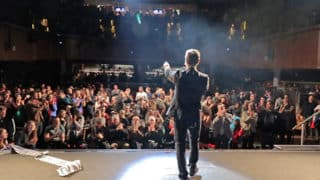 Max Major's March 15 and 16 Shows at National Harbor-100% of Proceeds to NatCapLyme
March 15, 2019 - March 16, 2019, 9:00 PM - 11:00 PM
National Harbor, Washington DC
Oxon Hill, Maryland United States
Max Major, a Lyme survivor, is donating 100% of his proceeds from this event to the
National Capital Lyme Disease Association. 
From Max: After being diagnosed with Lyme disease two years ago, I took a break from performing publicly. This weekend I return to the stage for my first public show in DC since August of 2016.
I will be donating 100% of my proceeds from this performance to National Capital Lyme Disease Association to help raise awareness and fund Lyme related research.
The show will take place on March 15th and 16th at 9pm at The Mirror Room, a custom theatre being constructed for us adjacent to the Big Apple Circus at National Harbor.
I'm not going to lie, the last two years have been really tough. For the first year, I was bed ridden and barely had the energy to move around the house, let alone perform. I became a bit of a recluse, withdrew from social media, and focused on myself for the first time in 35 years.
Not satisfied with the pace of my recovery I moved to California in October of 2018 to put my health first and find an environment where I could not just get back to my old self, but end up stronger than I ever was before. While I'm not 110% yet, I have made amazing progress AND just last week received the word that my latest round of blood work came back NEGATIVE for lyme! While I still have some work to do to clean up the mess made by Lyme, I thought it was time to get back to doing what I love.
This show in DC is a chance for me to reconnect with old friends, have some fun on stage, and to use my platform to spread awareness about a disease that effects hundreds of thousands of people each year (329,000+ people to be exact…more than Hepatitis C, HIV, Colon Cancer and Breast cancer)
P.S. – This is not part of the Big Apple Circus show in the Main Tent. This is a separate event in a neighboring tent that the Big Apple Circus is donating to our cause! Space is limited to only 130 people to be a part of this new beginning in Max Major's performance series!
Max Major is a world-renowned mentalist living in Washington, DC. His performances, which combine Magic, Mentalism, and Hypnosis, are featured at corporate events across the country. In addition to his studies as a magician, Major relies heavily on his skills at reading body language, which he has honed over the course of 2000 live shows. His clients include Facebook, Microsoft, Deloitte, CSX, Costco, Lockheed Martin, Booz Allen and a command performance at the residence of Redskins owner Dan Snyder. In the last 5 years he has been called before two Department of Defense Agencies to demonstrate his innovative techniques in hypnosis, body language and influence! In 2011, 2012, 2013 and 2014 he was named "DC's Best Performance Artist" by the Washington City Paper, recognizing him as the premier entertainer in the region. In 2015 he bowed out of the race to give someone else a chance and focus on the category that really matters "Best Girls Night Out".
Map Unavailable