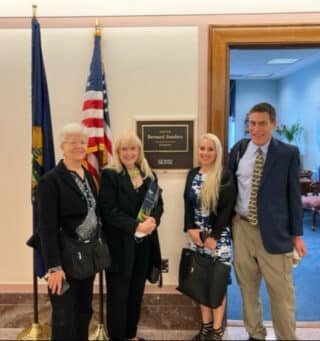 McLean Day Festival – Lewinsville Park 1659 Chain Bridge Rd, McLean, VA
May 20, 2023,
 to make their health a priority.  The National Capital Lyme Disease As many of us know, May is Lyme Disease Awareness Month, but it is also, beginning on, Mother's Day, National Women's Health Week 2023.  The week is dedicated to encouraging women and girlsAssociation (NatCapLyme) joined with Mothers Against Lyme in a combined effort to visit and educate U.S. Senators and Capitol Hill staffers on the gender disparities related to Lyme disease and the impact of congenitally transmitted Lyme disease on mothers, children and families.  The issues discussed were the impact of Lyme during pregnancy and the risk of adverse birth outcomes for treated and untreated patients.  Advocating were:
Bruce Fries, President. Patient Care Advocacy Group
Holly Ahern, Vice President, Lyme Action Network
Isabel Rose Co-Founder and o-Chair, Mothers Against Lyme
Monte Skall, Executive Director, National Capital Lyme Disease Association
Kathy Boileau, Deputy Director, National Capital Lyme Disease Association
Almas Eftekhari, Director, National Capital Lyme Disease Association
Thanks to Mothers Against Lyme and to the advocates who took the time to come for this important, but oft overlooked, matter.
!