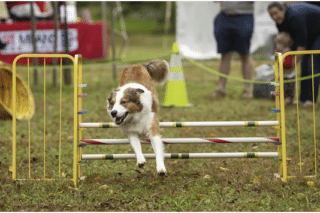 McLean Pet Fest 2023
October 15, 2023, 11:00 AM - 4:00 PM
Learn about Lyme and Tick-borne diseases at our booth. Have fun at the park and bring your furry friends (leashed, please)!
---
Enjoy free music, Fido's Bone Bar, a photo booth, pet tricks, gourmet food trucks, giveaways and demonstration shows. Find valuable pet-related resources including pet rescue, adoption, pet sitters, groomers and trainers. Costumes are welcome for the Pet Parade at 3 p.m.
The McLean Community Center has created the "purrfect" event for local pet owners and their beloved animals! McLean Central Park will be alive with local pets and their families on October 15, 2023, when McLean Pet Fest takes place.
Drop by NatCapLyme's booth and learn how to keep your pets safe from ticks and the diseases they carry and what to do if you find a tick on your pet. Demonstrations on how to properly remove a tick will be shown throughout the day.
Learn how YOU can become a Tick Buster and fight the bite.
Have fun at the park, see great pet tricks and demonstrations, find valuable pet-related information and get tips on products and services that can enhance the life of your pet and improve your experiences as a pet owner. A variety of exhibitors will be participating.
Bring your leashed pets to show off their best costumes and join the fun for the Pet Parade at 3 pm! Take a picture of your pet and the whole family in the photo booth.
All dogs must remain on leashes sporting their dog licenses and rabies tags. Free parking at the Dolley Madison Library and MCC.