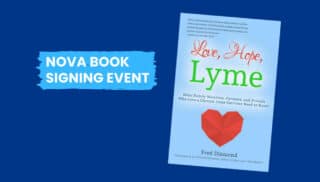 NOVA Book Signing Event
October 16, 2023, 5:00 PM - 7:00 PM
Join NatCapLyme on October 16th from 5 p.m. to 7 p.m. at the first
---
Eight great authors, including Fred Diamond, author of:
Love, Hope, Lyme:
What Family Members, Partners, and Friends Who Love a Chronic Lyme Survivior
 Need to Know
will be speaking and signing their books.  Mr. Diamond's groundbreaking book is written specifically for family members, partners, and friends who want to understand more about how they can support someone they love that is suffering from a tick-borne illness. In his book Fred covers the following:
What You Need to Know about Lyme Disease
Neurological Concerns
Lyme Survivor Stories and How You Can Make a Difference
The Little Things You Can Do to Make Everyone's Life Easier
Family Activities
Gluten-Free Diets and Nutrition
The Six Stages of Healing
Politics, Expense, Insurance
Books will be available for purchase and attendance is free, but reservation is required.
More information HERE.
"Many relationships are shattered when someone suffers from Lyme disease. Fred Diamond 's insight and generosity in sharing what he discovered will keep more couples and families together in the future."   Joe Jemsek, MD, FACP
"If you love someone with Lyme disease, this book is a must read!  One of the most informative and helpful books on caregiving I have read."   Monte Skall, Executive Director, NCLDA