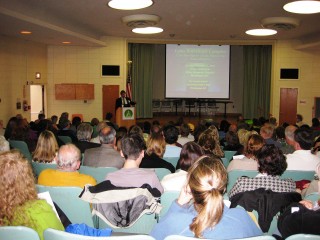 November Meeting – Dr. Joseph Jemsek
November 1, 2009,
Johns Hopkins Sibley Memorial Hospital
Washington, DC United States
National Capital Lyme & Tick-Borne Disease Association Announces its November Speaker  Joseph G. Jemsek, M.D. "Lyme Borreliosis Complex: the New Paradigm for Chronic Illness in the Human Biosphere"
Dr. Jemsek has both a clinical and research interest in Lyme Borreliosis, commonly referred to as Lyme Disease. Dr. Jemsek prefers the term Lyme Borreliosis Complex (LBC), which he feels better reflects an immune-compromising syndrome affecting multiple organ systems and caused by multiple coexisting infections.   In spite of the current political barriers, he continues to create and evolve innovative approaches in the treatment of LBC and is in the process of collaborating with other researchers in the development of credentialed treatment protocols.
Dr. Jemsek has announced his clinic will be transitioning its base of operations from Fort Mill, South Carolina, to Washington, D.C.  See: http://www.jemsekspecialty.com/ for more information.
This education, discussion and support group is sponsored by the National Capital Lyme & Tick-Borne Disease Association for patients, their family members and friends.
Attendees may be chemically sensitive: No scented products, please.  For information and directions call (703) 821-8833.