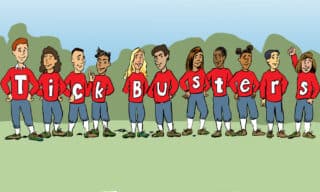 TICK BUSTERS ARE ON THE MOVE!
May 1, 2023,
May is Lyme Disease Awareness Month, a time for our community to focus on awareness and prevention of Lyme and tick-borne diseases. The National Capital Lyme Disease Association (NatCapLyme) is excited to kick off our educational and awareness outreach campaign for children and adults called Tick Busters Wanted Dead or Alive (tickbusters.org).  Education is your best defense against Lyme and tick-borne diseases, and we adhere to the bottom-up as well as a top-down approach to education.  Children make wonderful teachers and parents make great students!
---
WHO WE ARE
NatCapLyme has been a source of support for patients, created and passed legislation, educated both public and federal agencies about ticks and the diseases they carry, and raised needed funding for tick-borne research. Read more at: www.NatCapLyme.org.
This year we are focusing on an awareness and prevention educational program; especially targeting children since they are the most vulnerable population, given they play outdoors extensively.  Please check out tickbusters.org for more information.
---
JOIN US
We believe that books can inspire a reader to make their world a better place – starting in their own backyards and neighborhoods.  NatCapLyme is requesting the opportunity to partner with you on a children's reading campaign with our recently published educational series Tick Busters, Tickula Wanted Dead or Alive.  This series is suitable for children Kindergarten through 6th grade. The series teaches young people, parents, and the community-at-large about ticks, the diseases they carry and the benefits of prevention.  This series is being provided to you at NatCapLyme's cost.
---
YOU CAN HELP
Follow these steps:
1. Begin by contacting us and requesting your booklet.
2. Read the story booklet with your family and watch the video – TickBusters.org
3. Encourage children to discuss what they learned with others: family members, friends, neighbors, classmates, and teachers.
4. Share the booklet with your local schools, libraries, camps, physicians, and county health departments.
5. Contact your neighborhood schools to see if they would be interested in a Tick Busters Box classroom presentation.
---
TICK BUSTERS OUTREACH
– NatCapLyme will partner with you in educating your family about ticks. You will become an active participant in educating others. The Tick Busters story booklet is available to anyone in any state.
– A Tick Busters Pilot Program will be initiated in Virginia with the goal of promoting awareness and prevention. We will be sending Tick Busters Bundles to the following locations statewide: all county health departments, public & private schools, physician offices, summer camps, public libraries as well to as girl and boy scout troops, classroom teachers, school nurses, state legislators and county officials.
– NatCapLyme is distributing 5,000 Tick Busters story booklets in Little Free Libraries (Link) across Virginia, Maryland, North Carolina, and Washington DC to spread tick awareness and prevention.
– NatCapLyme will be introducing an education bill in the Virginia legislation in 2021/22 calling for the development of instructional tools and materials for school districts and libraries to assist in an education and awareness program to protect children from Lyme disease and tick-borne infections.
---
With summer fast approaching and children spending more time outdoors, it is important for everyone to learn about and take precautions against ticks and the diseases they carry.  Join us in this educational effort to educate others so that they "Don't Get Sick from the Bite of a Tick"!