Anaplasmosis
February 8, 2016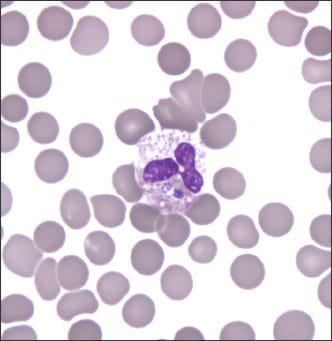 Human Granulocytic Anaplasmosis (HGA), or simply, anaplasmosis, is a disease caused by Anaplasma phagocytophilum. The pathogen infects white blood cells and is transmitted by the Lyme disease-causing black-legged Ixodes ticks.
Clinical presentation of anaplasmosis is variable and often includes headaches, fever, muscle pain, and a general feeling of discomfort. Less frequently, patients experience joint pain or involvement of the gastrointestinal tract (nausea, vomiting, and diarrhea), respiratory system (coughing, pulmonary infiltrates, acute respiratory distress syndrome [ARDS]), liver ailments, or central nervous system involvement. A CDC study reports that Anaplasma phagocytophilum possesses unique adaptations to its host's immune system. The bacterium's pathogenic mechanisms interact with native cellular processes of neutrophils (white blood cells), which leads to altered neutrophil function, changes to the immune system, severe disease, and opportunistic infections. Presently, more research is needed to better understand the bacterium's disease-causing mechanisms and its immunological effects, as well as the infection's variable impact on humans and animals.
Cats and dogs may also contract anaplasmosis, but they cannot directly transmit the infection to humans. Anaplasmosis in pets is evidence that the pathogen is probably present in the surrounding environment, so heightened vigilance of ticks is required.
Anaplasma phagocytophilum was established as a veterinary disease-causing agent in 1932, but wasn't discovered in humans until 1990. Since then, the incidence of anaplasmosis in humans has greatly increased, and cases in Europe have been recognized as well. Antibodies to the disease are found in humans across the world, suggesting that infection is common, but rarely recognized. Anaplasmosis is treated with antibiotics in both humans and animals.