Babesiosis
February 8, 2016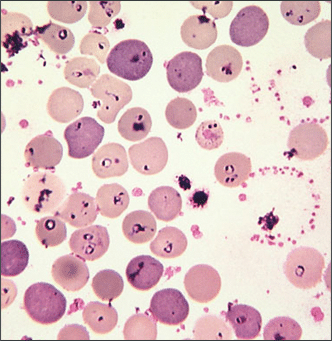 Babesiosis is a tick-borne illness caused by the Babesia parasite. Over 100 distinct species have been identified, although only a few are known human pathogens. Babesia replicates in the host's red blood cells and is spread by the Lyme disease causing black-legged deer tick (Ixodes scapularis). In endemic areas, the disease has also reportedly been transmitted via the placenta and blood transfusions.
Babesia microti is the most frequently implicated species in cases of babesiosis in the United States. Instances of the disease coincide with the natural habitat of the Ixodes tick within the Eastern U.S and the Midwest. In western parts of the country babesiosis is caused by Babesia duncani, though reported cases have been observed in the east as well.
Symptomatically, babesiosis is similar to malaria and typically presents with a gradual onset of flu-like symptoms that include malaise, fatigue, fever, and chills. High fever, drenching sweats, muscle pain, and headaches may follow soon after. As with malaria, these symptoms may persist for a prolonged period of time or abate and recur in intervals. If improperly treated or undiagnosed, the infection may become chronic. Chronic symptoms include general weakness, fatigue, depression, gastrointestinal and psychological symptoms, weight loss, headaches, photophobia (aversion to light), stiff neck, cough, shortness of breath, muscle and joint pain, dark urine, jaundice, and a swollen spleen. This stage of the disease can only resolve with persistent treatment.
Patients co-infected with Lyme disease and babesiosis, immune-compromised individuals, and those without a spleen may experience more severe symptoms than the rest of the population.
Early signs of the disease are largely non-specific, which makes diagnosis difficult. Nevertheless, physicians who see patients from endemic areas presenting with flu-like symptoms especially in summer months should suspect the possibility of babesiosis. Treatment varies among individuals and depends on the symptoms. Those with severe forms of disease should be treated until symptoms no longer persist and the test results are negative for at least two consecutive weeks.