Coxiella Burnetii (Q Fever)
February 8, 2016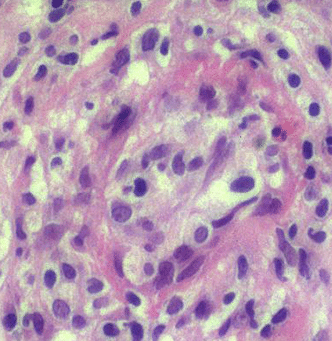 Q fever is a serious illness caused by the Gram-negative obligate intracellular bacteria Coxiella burnetii. It resides in cattle, sheep, and goats, and is transmitted through the urine, feces, milk, and amniotic fluid of infected animals. Coxiella burnetii is a resilient organism that is resistant to heat, drying, and common disinfectants. Humans become ill through inhalation of dried birthing material and animal excretions. Transmission by ticks, consumption of unpasteurized milk, or through human contact is rare. Humans are particularly susceptible to this disease, which requires only a few organisms to initiate a successful infection.
Q fever can cause both acute and chronic illness. Symptoms of acute disease develop within two to three weeks of exposure and include high fever, severe headache, malaise, myalgia, chills, sweats, non-productive cough, nausea, vomiting, diarrhea, chest and abdominal pain. It is worthwhile to note that close to half of those infected never develop any symptoms at all, and that symptoms may occur in a variety of combinations. Most people with the acute disease fully recover, although some may experience lasting effects, such as inflammation of the liver or heart, pneumonia, or involvement of the central nervous system.
Chronic Q fever develops in less than five percent of patients and may appear within six weeks of the acute stage, or as late as several years post the initial infection. Some chronic cases develop endocarditis, which requires quick diagnosis and a long-term antibiotic regimen to successfully resolve. Other manifestations of chronic disease include aortic aneurisms and infections of the bone, reproductive organs, or liver. Coxiella burnetii may persist in the body after initial infection, causing post-Q fever fatigue syndrome in a small percentage of patients. This syndrome involves recurring fatigue, night sweats, severe headaches, photophobia, joint and muscle pain, mood changes, and difficulty sleeping.
Q fever is a challenging disease to diagnose because it presents with a wide range of symptoms commonly seen in other diseases. Diagnosis is based on signs and symptoms, and confirmed using laboratory testing such as polymerase chain reaction (PCR) to detect bacterial DNA or immunofluorescence assay (IFA) to detect antibodies against Coxiella burnetii. Antibiotics are the treatment of choice.