Tularemia
February 8, 2016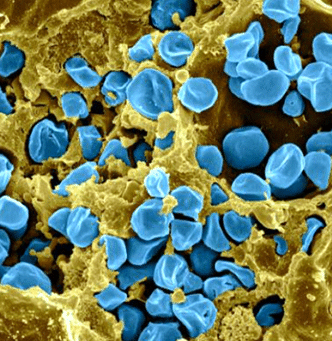 Tularemia is caused by the Gram-negative intracellular bacterium Francisella tularensis. This disease infects both humans and animals, but is particularly devastating to rabbits, hares, and rodents. It is spread via ticks, deer flies, contact with infected animals, ingestion of contaminated water, and inhalation of infectious droplets. Tularemia is naturally occurring, but its ease of transmission through aerosol classifies it as a bioterrorism warfare agent. Symptoms of this disease vary and depend on the pathogen's mode of entry into the body. Nevertheless, all forms of tularemia present with fever.
Ulceroglandular: This form of the disease is acquired through handling an infected animal or through the bite of a tick or deer fly. A skin ulcer appears at the bite site, which is accompanied by inflamed regional lymph nodes.
Glandular: Glandular tularemia is transmitted in the same manner as the ulcerograndular variety. It also presents with similar symptoms although the ulcer is absent in this case.
Oculoglandular: This variety occurs when bacteria enter through the eye. Symptoms include inflammation of the eye and swelling of the lymph node in front of the ear.
Oropharyngeal: This manifestation results from consuming contaminated food or water. Symptoms include sore throat, mouth ulcers, and inflammation of the tonsils and the lymph nodes in the neck.
Pneumotic: This is the most serious form of tularemia. It results from the inhalation of contaminated droplets or as a consequence of not treating one of the other manifestations where the bacteria spread via the blood to the lungs. Symptoms include cough, chest pain, and difficulty breathing.
Tularemia can be difficult to diagnose because its symptoms mimic other diseases. For this reason it is imperative to share with your doctor any risk factors, such as tick bites or exposure to livestock. Tularemia is confirmed with blood tests and culture, and treated with antibiotics.