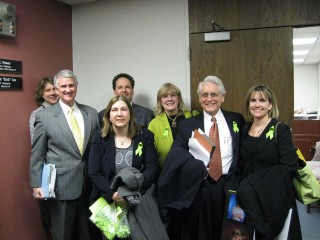 January 19, 2010
New Lyme Law Proposed to Protect Virginia Doctors Treating Lyme Disease U.S. Physicians Fear Losing Medical License for Treating Lyme Aggressively
(Richmond, VA) – A new bill, introduced in the Virginia House of Delegates by Tom Rust, Delegate, 86th District (R), seeks to protect physicians in Virginia who provide extended antibiotic therapy to patients diagnosed with chronic Lyme and other tick-borne diseases.  Currently doctors treating Lyme disease aggressively with long term antibiotics are targeted by medical boards and insurance companies and face losing their license.
Lyme disease is the fastest growing infectious disease in the United States today.  This disease, caused by the bite of a tick, has reached epidemic levels in many counties in Virginia.  Most experts agree that reported cases are likely to represent only a tenth of the actual number of cases.
Delegate Rust introduced this bill to empower physicians to provide effective, desperately needed patient care.  "Doctors should be able to treat patients based on their best medical judgment, without fear of retaliation."  Delegate Rust added, "If Lyme disease is untreated or not treated aggressively it can have far-reaching implications – not only for patients' health but also for healthcare costs, disability compensation and worker productivity.  These costs far exceed the expense of paying for therapeutic antibiotics to treat the infection and its symptoms."
The National Capital Lyme and Tick-Borne Disease Association, an organization with over 1800 members, including affiliated chapters across the state in Central Virginia, Fairfax, Hampton Roads, and the Shenandoah Valley endorses the bill.   Executive Director Monte Skall said, "House Bill 512 is necessary to improve treatment options for patients.  Our hotline receives
dozens of calls every day from patients seeking a doctor knowledgeable in the treatment of tick-borne diseases, often reporting they have had to drive hundreds of miles to receive care, frequently out-of-state.  I am confident that passage of HB 512 will result in many more physicians willing to treat Lyme patients with the standard of care they believe most appropriate."
Dr. Samuel Shor, an internist in Reston, Virginia who studies, researches and treats Lyme disease said: "physicians are finding, and the literature supports, the need for long term antibiotic therapy when treating certain cases of Lyme disease.  The treatment guideline limited to four weeks of antibiotic treatment is seriously flawed.  In fact, a two year investigation by the Connecticut Attorney General resulted in a reevaluation of that guideline, yet it remains the de facto standard."  "It is interesting," he noted, "doxycycline often used for the treatment of Lyme disease is commonly used long-term by dermatologists for acne."
When detected early, the disease is considered curable with a limited course of antibiotics, typically 30 days.  Unfortunately, diagnosis and treatment of Lyme disease are often hindered by the limited sensitivity of current tests, and physician lack of awareness of the prevalence of the disease in Virginia.
Early symptoms of Lyme may include headache, stiff neck, fever, muscle aches, and fatigue.  If left untreated, the disease is thought to become chronic with more serious complications such as: joint pain and swelling; heart disease; neurological problems such as Bell's Palsy; dizziness; irritability; ADHD-like symptoms; cognitive dysfunction; and muscle weakness.