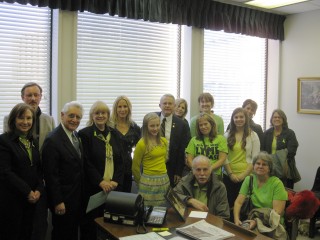 January 14, 2013
Lyme Disease Testing Information Disclosure Informs Virginia Residents of Critical Information about Current Two-tier Elisa and Western Blot tests
Senate SB 971 ; House of Delegates HB 1933
(Richmond, VA) – A new bill, introduced in the Virginia State Senate by Dick Black, Senator, 13th District and in the House of Delegates by Barbara Comstock, Delegate, 34th District proposes to ensure that Virginia residents are adequately educated and informed of the limitations in the existing serologic tests used to detect Lyme disease.
Although results rendered by commercial laboratories already bear disclaimers warning that the results may yield false negatives thus requiring additional testing, generally these disclosures are not seen by the patients. The Lyme Disease Testing Information Disclosure Act will ensure that this critical information will get to the hands of all patients being tested for Lyme disease.
"I look forward to working on this legislation with National Capital Lyme in order to raise awareness about this terrible disease and the high incidence of false negative tests for Lyme.   This bill will provide more information directly to patients so they can work with their doctors to find appropriate treatments for those suffering from Lyme disease," said Delegate Comstock.
Lyme disease is the fastest growing vector-borne infectious disease in the United States today. According to the U.S. Centers for Disease Control ("CDC"), it is the sixth fastest growing disease in the U.S.  This disease, typically caused by the bite of a tick, has reached epidemic levels in many counties in Virginia. Most experts agree that reported cases are likely to represent only a tenth of the actual number of cases.
Senator Dick Black said, "Lyme Disease is a serious problem in my district. I know many people who have suffered with Lyme because it was not properly diagnosed. The long-term suffering caused by this disease can usually be avoided with early diagnosis and treatment. This is what I am looking to address with this bill. I look forward to working with the National Capital Lyme Disease Association to get this important measure passed."
When detected early, the disease is considered curable with a limited course of antibiotics, typically 30 days. Unfortunately, too often diagnosis and treatment of Lyme disease are hindered by the limited sensitivity of current tests and the general lack of awareness of the prevalence of the disease in Virginia, even among physicians. Attorney Susan R. Green said, "Early detection is key! These bills will serve to insure that patients receive the information that the Labs intended. This information is vital to their diagnosis, care and treatment."
The National Capital Lyme and Tick-Borne Disease Association, an organization with over 3,000 members, including eleven chapters covering the entire state of Virginia endorses the bill.http://www.natcaplyme.local/chapters/ "The Lyme Disease Testing Information Disclosure Bill is necessary to improve treatment options for patients. With the raised awareness it will create, many Virginians can be spared the devastating disability that can occur when the disease is not discovered in time for effective treatment," said Monte Skall, its Executive Director.
Early symptoms of Lyme disease may include headache, stiff neck, fever, muscle aches, and fatigue. If left untreated or treatment is delayed, the disease can become chronic with serious, debilitating complications. A few examples include: joint pain and swelling, heart disease; neurological problems such as Bell's palsy, dizziness, irritability, ADHD-like symptoms, cognitive dysfunction, muscle weakness and neuropathy.
# # #
For more information on Bill SB 971 and HB 1933, please contact Monte Skall at 703-821-8822 or visit the NatCapLyme website at http://www.natcaplyme.local/