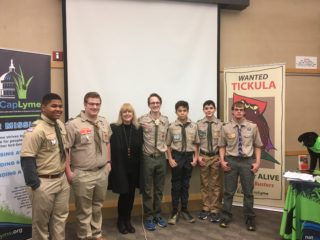 February 12, 2019
NatCapLyme was pleased to present "What You Need to Know About Lyme & Tick-borne Diseases" at a special event arranged by Eagle Scout Colin Jackson. Part of Colin's requirement to receive his Eagle badge was to do an awareness program that would educate his community about ticks and how to avoid their bite.
Colin presented his own story of how he was bitten by a tick on a scouting camping trip and the journey he as been on to restore his health ever since. His troop and scout master, along with family and friends, were there in support of Colin.
NATCAPLYME SALUTES COLIN FOR A JOB WELL DONE!!!